Thomas Brock Fuller was born on the l6th of Ju1y 1810, in the Garrison, Kingston (Ontario), where his father, Major Thomas Fuller, of the 41st Regiment, was stationed at the time. He was of Irish origin, and on his mother's side was descended from Archbishop Loftus, one of the founders of Trinity College, Dublin. On his father's side he was of the lineage of "Worthy Master Fuller," the Church historian. The gallant Sir Isaac Brock, after whom he was named, was his godfather. Deprived of both his parents when quite young, he was adopted by his aunt, Mrs. Leeming, wife of Rev. W. Lemming, Rector of Chippawa and Stamford. His early education was received at the Grammar Schools of Hamilton and York. He studied divinity at Chambly, and was admitted to the diaconate by Right Rev. Dr. Stewart, second Bishop of Quebec, in 1833, in the Quebec Cathedral. After serving a short time as curate at Montreal, where he went through a terrible experience in ministering to the sick and dying during a visitation of cholera, he was ordained priest at Toronto by Bishop Stewart. A few months after this he married Cynthia, eldest daughter of the late Samuel Street, Esq., of Clarkhill, near the Falls of Niagara. In 1836 he was sent as a missionary to Chatham, in the far west of "Upper Canada," now in the Diocese of Huron. For four years he laboured alone in the two counties of Lambton and Kent, establishing several stations, which afterwards became important parishes. (see
St Paul's Anglican, Chatham, Ontario
)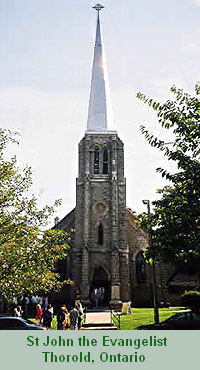 Mr. Fuller was a shrewd observer of events as they passed by. He noticed the weak state of the Church, and set himself to enquire into its prospects for the future. In 1836 he published anonymously a pamphlet on "The State and Prospects of the Church in Canada." It foretold the speedy withdrawal of all State aid and the secularization of the clergy reserves, and suggested that immediate steps should be taken for systematized self-help, by forming synods, and carrying forward plans for evoking spontaneous liberality on the part of Church people. These suggestions very soon afterwards, from dire necessity, took practical shape. (see
Dr. Strachan and the Clergy Reserves
)
Owing to his wife's wealth, Mr. Fuller was enabled to live independently of support from the people. In 1840 he was appointed to the rectory of Thorold, which, it is said, he served gratuitously for twenty-one years, establishing new stations in various directions in the vicinity of the Welland Canal.
In 1861 he was appointed Rector of St. George's Church, Toronto, and shortly afterwards he presented his old people at Thorold with $11,000, which he had advanced towards the erection of their beautiful church. He remained Rector of St. George's for fourteen years, and enjoyed the steady improvement which a growing city helped him to make in his parish.
He had a good practical knowledge of men and things. Bishop Strachan found him useful in the diocese, and in 1869 appointed him Archdeacon of Niagara. At the episcopal election held in Toronto in September 1866, to appoint a coadjutor for Bishop Strachan. Dr. Fuller had many firm supporters, as we have seen, during the whole nine ballots.
Next Page -
On Niagara Becoming an Anglican Diocese