One of the most prominent clergymen who laboured in the district now constituting the Diocese of Niagara was the Rev. Robert Addison, who laid the foundation of the Church there. He was a graduate of Trinity College, Cambridge, and displayed such marked ability, both in the classical and mathematical departments, that his seniors formed great expectations of his future career. Shortly after his ordination he applied for work in the Colonial Church, and was appointed, in 1791, to the mission of Niagara. His whole income was less than £100 a year, while his duties were of the most severe and exhausting kind. "My mission," he says, "is very laborious. I must either neglect my duty or make a circuit several times in the year of more than 150 miles." The congregation that he seems to have visited with the most satisfaction was that of the Mohawks on the Grand River. In 1812 Niagara was captured by the invading American army, and most of the principal inhabitants were sent hundreds of miles into the interior of the United States as prisoners of war. Mr. Addison was allowed to remain on parole in his own house. In the following year the town, with the church, was burnt down, and Mr. Addison says it is impossible for him to describe the horrid scenes he witnessed. He had himself been plundered, made prisoner of war, and harassed until he was dangerously ill. When in 1814 the Americans were driven out of the country, he resumed his regular mission work, which had been thus interrupted. His baptisms among the Indians now amounted to about 100 every year. After having ministered to the congregation in Niagara for nearly forty years, he died in 1829, in his seventy-fifth year, beloved and regretted by all. Bishop Strachan says of him--

"He was a gentleman of commanding talents and exquisite wit, whose devoted ness to his sacred duties, kindness of manner, and sweet companionship, are still sources of grateful and fond remembrance. In every township we find traces of his ministrations and endearing recollections of his affectionate visits."

from History of the Church in Eastern Canada and Newfoundland by John Langtry, M.A., D.C.L., Rector of S. Luke's, Toronto, and Prolocutor of the Provincial Synod of Canada. London, Brighton and New York: Society for Promoting Christian Knowledge, 1892.

Rev. Robert Addison's church St Mark's Anglican Church, 41 Byron St., Niagara-on-the-Lake is the oldest Anglican Church in continuous use in Ontario.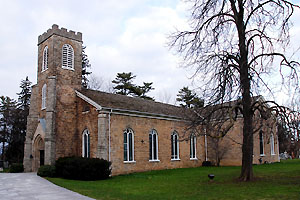 The building has been designated an Ontario Heritage Property. The plaque erected at the church by the Ontario Heritage Foundation, Ministry of Culture and Recreation reads:

"One of the earliest Anglican churches in the province, St. Mark's was begun in 1804 to serve a congregation organized twelve years earlier. Its first rector, the Reverend Robert Addison, chaplain of Upper Canada's first Legislative Assembly, numbered among his parishioners Lieutenant-Governor John Simcoe, Lieutenant-Colonel John Butler and Major-General Isaac Brock. Completed in 1810, the church was used by the British as a hospital in 1812 and by the Americans as a barracks in 1813. Burnt by the latter, the nave was rebuilt by 1822 and the church consecrated six years later. In 1843 the structure was altered by the addition of the transepts, chancel and the present Gothic Revival pulpits. Further interior alterations were made in 1892 and 1964."



Also see March, 1848 account of Rev Robert Addison from The Colonial Church Chronicle and Missionary Journal