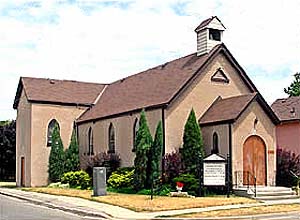 St. Luke's Church
130 Elgin Street, Brantford, Ontario
Phone: 519-753-2361

Rector: Rev. David Joyce


deconsecrated
St Paul's Church
McKenzie & Leonard Streets
Brantford, Ontario
A service of de-consecration was held
June 5, 2011 with Bishop Bennett officiating.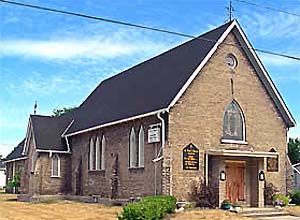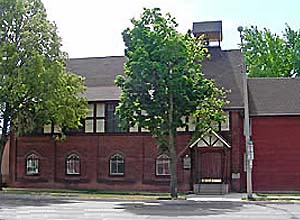 St. John's Church
150 Colbourne Street West, Brantford, Ontario
Phone: 519-752-8600

Rev. Chris Travers, formerly Deacon Assistant, St. George's, London, Ontario was appointed Deacon in Charge of St. John's and All Saints, Mt.Pleasant effective 1 August 2010. He became rector on his ordination to the priesthood.

THE FOUNDING OF BRANTFORD
In the 1820's significant improvements to the Hamilton and London road attracted settlers to the Indian lands at Brant's Ford where this thoroughfare crossed the Grand River. A thriving village soon developed and in 1830 the Six Nations surrendered its site. The opening of navigation to Brantford in 1848, the completion of the Buffalo, Brantford and Goderich Railway to the town in 1854 and the development of a rich agricultural hinterland fostered significant commercial and manufacturing growth in Brantford. The firms of Cockshutt and Harris, established here during the 1870's, laid the foundation for Brantford's development as Canada's leading farm implement manufacturing centre. Brantford, which became a town in 1847, was incorporated as a city in 1877.
Plaque erected by the Ontario Heritage Foundation, Ministry of Culture and Recreation at 102 Wellington Sq., Brantford